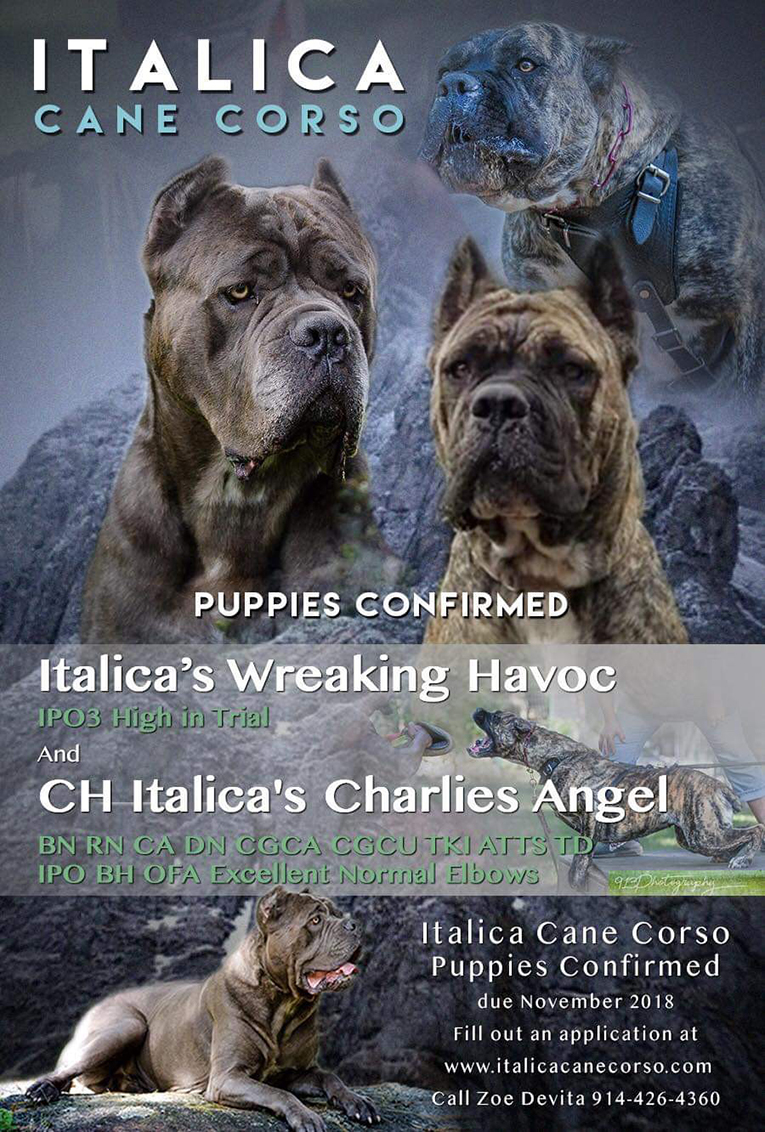 Puppy Application



Literally translated from "the Italian Land"

Cane Corso "de Italica Terrae" is a kennel owned and operated by Dominick & Zoe DeVita

In our search for the Ultimate Protector and Guardian for our home and family, my husband told me of a dog that he remembered growing up with in Italy. He described a beautiful majestic creature that protected the farms in and around his town who was brave, fearless and strong; yet gentle, loving and kind. The Cane Corso has an intelligence and intuition that can not be described. It absolutely must be experienced!

We obtained our first Cane Corso through a trusted friend and it was then that I began my journey...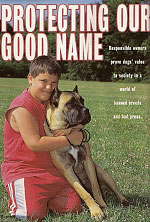 Our breeding program searches out dogs for a unique purpose; for the ability to perform in the show ring and also for their courage and willingness to work. Our kennel selectively breeds litters for the purpose of producing outstanding working and show quality Cane Corso puppies. We breed to the breed standard. To achieve this goal, we've chosen to breed dogs imported from Italy since it is the birthplace of the Cane Corso. Our dogs are sound in both body and mind, capable of holding their own in the show ring while fulfilling the role of a true working dog. Our dogs have been shown in books, calendars and magazines. Pictured left is Italia with my son Domenic in Dog Fancy Magazine. We offer stud services to select bitches, including the shipping of frozen semen from our Cane Corso stud dogs.

Whether you are looking for a prospect for show, obedience, personal protection or just a new best friend, we will help you with selecting the best dog that suits your needs.

We believe strongly that the future of our breed, the Cane Corso, lies in education. To that end, we make ourselves available at numerous local dog shows and working events. In addition our home is always open to visitors. If you would like to come out and meet the dogs please contact us to set up an appointment. We will return all calls and e-mails promptly.